Our Available Dogs
Please scroll down to see the full list below or visit the Petfinder.com website directly.
Adoption Process:
The adoption process generally takes around 2-4 weeks to complete, depending on several factors, such as volunteer availability and/or suitable dog availability. A typical adoption process goes as follows:
Complete the Adoption Application, stating the dog or dog breed you are interested in
Applications are reviewed and references including veterinary references are checked by Westie and Scottie Rescue Houston. (Please be aware, successful applicants must meet basic requirements such as a safe home environment, fenced yard, experience with the breed, etc.)
A phone interview is conducted and a home visit is scheduled
When the home visit passes inspection, an appointment will be arranged to visit with the available dogs and see if there is a match.
A contract is signed and the adoption fee is collected. The adopted dog goes to your home for an adjustment period of two weeks to ensure furever match.
All dogs are adopted are up to date on shots, spayed or neutered, and microchipped. They will also come with 6 months of heartworm prevention, a safety harness, collar, and WSRH ID tag.
If, after two weeks, the family and dog are found to be a suitable match, the adoption is considered final as per the contract.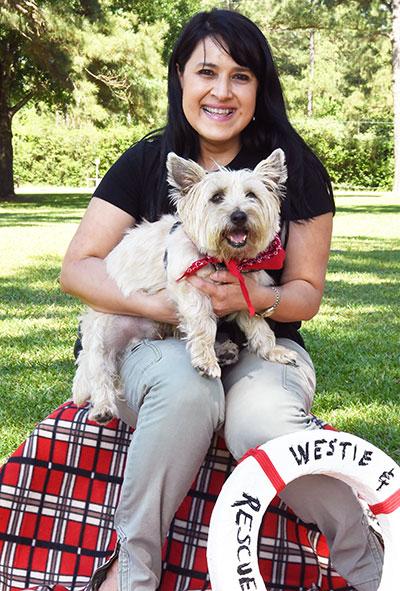 Is a Terrier Right for You?
Terriers have a special personality, that some may find an acquired taste and others can't live without. If you have a question about whether or not a terrier breed is for you and your family, read through this article for a fairly comprehensive discussion about this feisty adorable dog type. While the article is primarily about the Cairn Terrier characteristics, their traits are very similar across the Westie and Scottie breeds as well. See our page, About the Breeds for more information about Westies, Scotties and Cairns.
Ready to Adopt?
If you are interested in adopting a dog from Westie Rescue Houston, click the "Adoption Application" button below. You will be instructed to fill out information about your family, environment, pet history, and the name of the dog you are asking to adopt.
Many people prefer to adopt a puppy, but we do not have many puppies come through our program. While there are exceptions to every rule, be aware that the dogs we receive into our program are generally over 2 or 3 years old.
If you are interested in fostering a dog, please see our Fostering page for more information.
Upon completing the Application, click 'Submit' and the Application will be submitted to Westie Rescue Houston.